Digital presentations, digital reports, interactive pdfs, CDs, e-books, e-flyers, e-cards - the list is ever expanding...
See also approaching digital, our guide to digital publishing.
Digital form
IWM
A form for internal use which had to be capable of revisions and additions during its life. For practical reasons it was required as a Word template - shown here.
Presentation
DTA
A two-part presentation developed with the client and designed to explain the intricacies of funding and the role of community anchors. Illustrations: h+c.
download the total connector presentation
see also infographics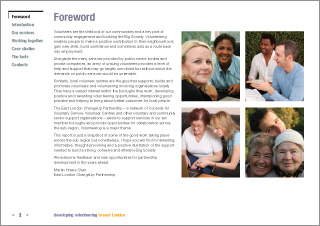 Digital report
East London CVS Network
A report on the work of volunteer centres in east London. We designed the report as an interactive pdf in landscape format, designed to be read on screen.
more on this project
see also infographics
Training manual
East London CVS Network
A hyperlinked manual produced for distribution on CD and designed to work with the ELCVS visual identity. This is the second CD we have produced for this client.
e-cards
We started off designing interacive e-cards for friends and can now offer one-offs or customised cards from our small series.
see this card