exhibition design, signage...
We always enjoy being asked to work on projects involving large graphics and displays, and working with different materials and production methods.
Signage
IWM London
Hoardings and stencilled signs used in the parts of the museum kept open during the extensive building works this year.
Exhibition design
IWM North
An exhibition of photographs by Sean Smith, taken during the Iraq war and insurgency. The panels shown here were advertising the exhibition inside.
more on this project
Exhibition
Science Museum
We worked with copywriters and the curators to produce text-intensive graphics for a short-term exhibition about digital security.
Exhibition boards
DTA
We designed a board for each DTA London member for their annual conference. The boards were designed to accommodate a huge variation in image quality and size.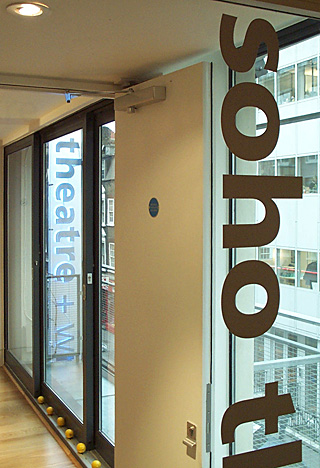 Signage
Soho Theatre
We designed the original interior and exterior signs for Soho Theatre in Dean Street.
more on this project
Set dressing and props
Ripley and friends
Ironic branding props including signs, name labels and desk signs for the shoot of Video Arts' Complaints – a humorous training video.
Theatre boards
Duchess Theatre
Large exterior theatre display boards for Pieter-Dirk Uys' comedy show.